People decide to get tattoos for a variety of reasons, but there are almost as many reasons they eventually choose to have them removed. Some of the top reasons patients give for choosing laser tattoo removal include looking for a new job/career, deciding that the tattoo is no longer relevant, and experiencing stigma. Perhaps the most common reason to get laser tattoo removal, however, is simply a change of heart. Dr. Louis M. DeJoseph, M.D. and Paul P. Daraei, M.D. are well-known throughout Atlanta, GA as an expert in laser tattoo removal.
Tattoo Removal – Dr. Louis DeJoseph on CBS Top Stories
Our staff of licensed laser technicians delivers excellent results through the knowledge and experience he has cultivated through many years of working with laser tattoo removal technology. Our skill and passion for his craft make him a true industry leader. Countless patients in Atlanta and worldwide have relied on him for laser tattoo removal at Premier Image Cosmetic & Laser Surgery, and have enjoyed outstanding results.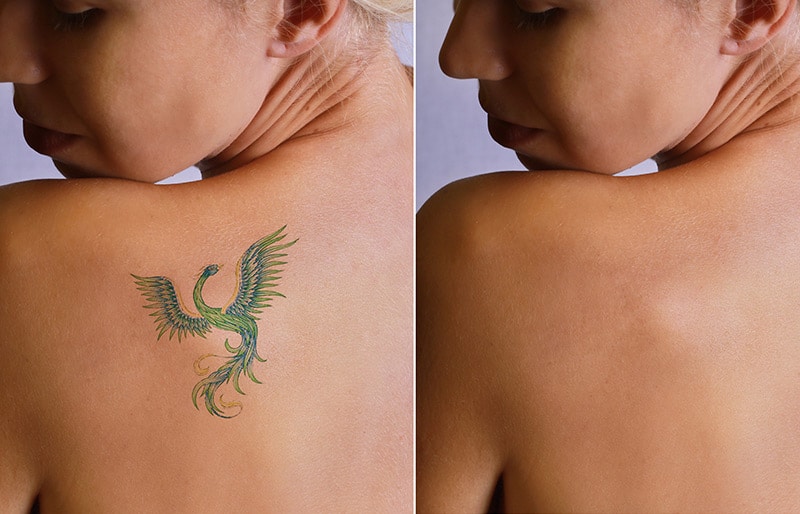 What Is Laser Tattoo Removal?
Tattooing for decorative and ritual purposes has been in existence for more than 5,000 years. Since then, there have been plenty of attempts at tattoo removal, but none have been very successful until recently. Past techniques such as dermabrasion and CO2 lasers have succeeded in removing the tattoo but they also leave behind an undesirable white scar.
Now, modern technology has advanced, allowing for effective fading of nearly all types of tattoos. Several lasers are on the market that produces a certain amount of erasure, but the Verapulse® Laser is the most effective at removing deep professional tattoos of many colors. While many other types of lasers are only effective at removing amateur tattoos or black ink, the Verapulse® Laser can remove many types of tattoo inks and colors, including blue, yellow, green, and red ink. The Verapulse® laser boasts a very low risk of scarring, whereas other lasers can leave behind a scar. In Dr. DeJoseph's practice, he uses the state-of-the-art Verapulse® Laser as it has proven to be the best laser to remove professional-grade tattoos and a full spectrum of colored inks.
How Does Laser Tattoo Removal Work?
Tattoo artists use needles to push pigment into the skin, creating body art. Removing the tattoo ink with a laser involves using light energy to remove that ink. The Verapulse Laser mimics the natural light from the sun, which is comprised of a full spectrum of colors. This laser is designed to produce specific wavelengths of light. These wavelengths do one of three things – become absorbed, reflected, or pass through the object it is directed at.
With Verapulse® Laser tattoo removal, the tattoo ink is broken apart and removed from the body by using a specific wavelength. As this wavelength passes through the skin it, the ink absorbs the light energy and the ink is broken up into small pieces. Over time, the body naturally removes the pigment from the skin and the ink is filtered out of the body.
Dr. DeJoseph and Dr. Daraei uses the best laser on the market, the Verapulse® Laser. It is the only laser to date which effectively removes a full range of colored tattoo inks. Other lasers remove black ink and one or two colors and may cost patients less per session, but these other models often take more sessions to completely remove the tattoo and have increased the risk of scarring.
The Tattoo Removal Consultation
Once patients determine that they wish to have a tattoo removed, the next step in the process is the consultation with a licensed laser technician at Premier Image. This allows the patient to discuss their cosmetic goals and their provider to learn about any possible health concerns, current medications they may be taking, and medical history. Patients have the opportunity to ask questions regarding treatment, including what to expect during the procedure and what, if any, anesthesia will be used. Dr. DeJoseph or Dr. Daraei will discuss any risks and share the likely outcomes of laser tattoo removal.
What Makes a Good Candidate for Laser Tattoo Removal?
The reasons people choose to undergo laser tattoo removal are typically very personal. Regardless of the motive for wanting to remove a tattoo, there are certain qualifications that make an individual an ideal candidate for laser tattoo removal. Excellent candidates for laser tattoo removal include individuals who are in good physical health, non-smokers, willing to commit to the time it takes for complete tattoo removal, and well-informed about the procedure.
Individuals interested in laser tattoo removal should schedule a consultation with one of the licensed laser technicians at Premier Image. They will answer any questions you have and provide feedback. If it is determined that you are a good candidate for the procedure, you will be able to schedule your first treatment session and receive clear instructions on how to move forward.
The Laser Tattoo Removal Procedure
The number of sessions largely depends on the type and color of the tattoo pigment in question. A small tattoo with just one color can take between one and ten laser treatments. Professional tattoos are often deeper and will take more sessions to remove completely. Additionally, multi-colored tattoos take several more sessions than tattoos with just one color. Treatment sessions are spaced 4-8 weeks apart and performed in Dr. DeJoseph's Atlanta office.
The Verapulse® Laser treatment feels much like a rubber band snapping on your skin. While many patients do not require anesthesia, topical or local anesthesia is an option. Dr. DeJoseph or Dr. Daraei discusses these options with during the patient consultation to determine if the individual patient will require anesthesia.
After treatment, the affected area may be red and tender. Light crusting can form, and in the case of deeper tattoos superficial blistering can occur. During the consultation, Dr. DeJoseph or Dr. Daraei explains exactly what to expect, depending on the type of tattoo being removed. It is important to follow his instructions and take any medications prescribed before and after each treatment session.
Laser Tattoo Removal FAQs
How many laser tattoo removal treatments are needed?
The number of laser tattoo removal treatments required to achieve good results depends on the age and location of the tattoo, skin tone, depth and color of the ink, and the strength of the patient's immune system. A tattoo is typically removed completely within 5 to 15 sessions, depending on these factors. The number of sessions also depends on the type of laser used and the surgeon's level of skill and experience. Dr. DeJoseph, Dr. Daraei, and his team of licensed laser technicians have many years of expertise treating patients with the Verapulse® Laser.
Is laser tattoo removal safe?
Yes, when overseen by a reputable board-certified dermatologic surgeon and when using the right type of laser technology. Verapulse® Lasers are proven to be safe and effective at removing tattoo ink from the skin. When Verapulse® Laser tattoo removal is performed by an experienced and licensed laser practitioner, there is very little risk of infection or scarring.
How does the VersaPulse® Laser remove a tattoo?
Verapulse® Lasers uses light energy and specific wavelengths to remove tattoo ink on the skin. As the light energy from the laser passes through the skin, the ink quickly absorbs it. This light energy breaks apart the ink and the body removes it over time through its natural immune process.
How do I find the right surgeon for laser tattoo removal?
Choosing the right surgeon for laser tattoo removal is critical to achieving good results with the minimum amount of treatment sessions. Dr. Louis M. DeJoseph, M.D. is triple board certified in facial plastic surgery, reconstructive surgery, and laser surgery. He has over a decade of experience in laser tattoo removal and utilizes state-of-the-art Verapulse® Laser technology, the best available tattoo removal technology to date.
What laser tattoo removal office is near me?
If you live near Sandy Springs, GA, Premier Image Cosmetic and Laser Surgery offers laser tattoo removal among its services, and is conveniently located at 6085 Barfield Rd #100 Sandy Springs, GA 30328
Consult today
Dr. DeJoseph and Dr. Daraei have helped hundreds of individuals worldwide not only through their skill and expertise but by cultivating trusting relationships with his patients. They believe that establishing a trusting relationship from the beginning is key to helping his patients achieve the best results possible. To schedule a laser tattoo removal consultation with Dr. DeJoseph or Dr. Daraei at Premier Image in Atlanta, GA office, call (770) 457-6303 today.