Large or prominent ears can be a source of discomfort in people, causing them to feel self-conscious in everyday situations. Others tend to notice the appearance of one's protruding ears, as most attention is directed at the face and these two features are situated laterally from its centerline. Otoplasty, ear reshaping, or just ear pinning surgery is a specialty corrective ear surgery performed by Dr. DeJoseph or Dr. Daraei of Premier Image Cosmetic and Laser Surgery near Atlanta, GA.
Otoplasty ear surgery – Dr. Louis DeJoseph, Atlanta Georgia
What is Otoplasty?
Cosmetic ear surgery does not impact the function of the ears or a patient's hearing in any way. Only the exterior portion, or outer ear, is affected. During the procedure, the ears are repositioned on the head to a more symmetrical, aesthetically pleasing place. Prominent ears may appear large if they are angled toward the face, but will look smaller once otoplasty is complete. The ears will then lay flatter against the head. If the patient feels their ears are too large for their head, the overall size can be minimized by corrections to the cartilage and earlobes.
A Unique Procedure for Insecure Youths
Otoplasty may be the single cosmetic procedure that is performed more commonly on children than adults. Most Atlanta plastic surgeons specialize in creating aesthetic changes in fully grown adults, but otoplasty is part of a proactive treatment plan. Many children will endure bullying and harassment due to their unique looks and are called names like "Dumbo" or "Radar," that play on the size or positioning of the ears. Through elective surgery, patients can prevent ridicule from their peers. For this reason, many parents request the otoplasty procedure for their child prior to entering elementary school at age 6, avoiding permanent psychological damage.
Adult Otoplasty Patients
Thousands of adults undergo otoplasty each year. These men and women describe years of torment, and some feel less attractive due to the projected position of the ears. Prior to undergoing treatment, they may have worn their hair long, or covered their head with hats that hide the ears. Often, people have avoided activities that would show off their ears, like swimming, where the ears are visible through wet, matted hair and other athletics where the hair is worn away from the face. Dr. DeJoseph or Dr. Daraei has many patients who have covered this feature their whole lives, but seek professional positions in offices, police forces, or the military where short hair is more appropriate or even mandatory.
Conditions Requiring Otoplasty Correction
Dr. DeJoseph's ear pinning patients may display one or more abnormal features of the ears. We explain these common conditions below.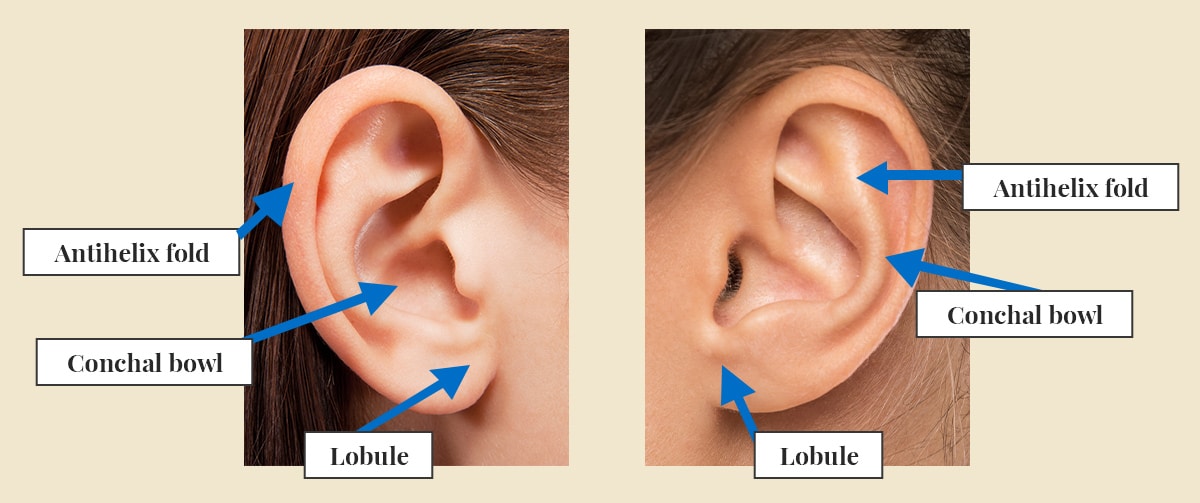 Failure of Antihelix Fold
This feature may be lacking in one or both ears. The antihelix fold is the inner C-shaped piece of cartilage that helps to form the ear. When a patient does not have adequate material to mold an ear into its proper positioning, the results can be ears that appear flatter in shape that project forward. This is the most common anatomical issue in patients seeking otoplasty.
Conchal Bowl Deformity
The conchal bowl is the portion of the ear located just outside of the opening to the ear canal. Formation issues may cause the entire ear to jut out from the head. This portion of the anatomy may require reduction to provide the best aesthetic results to a patient during ear shaping surgery.
Lobule Deformity
Affecting the lower ear, cosmetic abnormalities of the earlobes can cause people to feel dissatisfied with their appearance. There are a number of ways the ear lobes can affect one's looks, from appearing too large or long to being irregularly shaped. Earlobe correction alone may or may not require the entire repositioning of the ear.
How Prominent Ears Impact Aesthetics
Disproportionately large ears can cause a person's head to appear small, even if their anatomy is that of a normal child or adult. While children often complain about feeling "goofy-" or "dopey-looking," men and women tend to have different feelings, and feel they look adolescent or child-like due to their prominent ears. Large, forward-facing ears can also impact other features of the face, causing the cheekbones to appear flat or the face to look shorter in length and narrower due to their midway positioning on the head. The purpose of otoplasty surgery is to prevent cruel jabs, restore a patient's self-confidence, and allow other features to a central focus.
Otoplasty Consultation
The otoplasty sculpturing technique should be performed by a qualified facial plastic surgeon. Dr. DeJoseph or Dr. Daraei accepts many referrals due to his growing patient base and their positive experiences, though many do not realize that they are triple and double board certified respectively. They have the credentials to perform this intricate procedure, even on smaller-sized children's ears.
Dr. DeJoseph or Dr. Daraei will conduct this initial appointment by meeting with children and their parents or his adult patients to learn about their aesthetic concerns and come to realistic expectations. During the consultation with Dr. DeJoseph or Dr. Daraei, once they learn how each patient wishes to correct his or her ears, they then capture their photograph and use imaging software to produce possible otoplasty outcomes. Once a patient is able to visualize how they may look, he or she may feel more comfortable pursuing this permanent treatment option.
The Otoplasty Surgery Experience
Ear pinning surgery is performed in about two hours on an outpatient basis. Patients will need to remove any earrings, shower prior to coming to the appointment, and not put any products in the hair or on the skin as they may cause irritations or other issues during otoplasty surgery. We recommend people with long hair to wear it away from the face so that the ears are easily exposed. The patient will arrive to his or her surgical appointment, and children and their parents will meet for the preoperative meeting. Adult patients generally attend this part of the appointment alone or with the person driving them to and from the visit. Dr. DeJoseph or Dr. Daraei will outline the treatment plan and may introduce members of the surgical staff, including the anesthesiologist. Patients and their parents have the opportunity to ask any questions before the surgery begins. Dr. DeJoseph or Dr. Daraei may also take this time to mark guidelines, including otoplasty incision sites and the new position of the ears, on and around the ears with a special surgical pen.
The Otoplasty Surgery
The patient may be placed under general anesthesia, though local anesthesia combined with sedation is common for this minimally invasive procedure. The ears are prepped with a disinfecting solution. And the surgery can begin. Depending on the patient's requested changes, the incision may be hidden in the natural crease at the back of each ear, on the earlobe, or other parts of the outer ear. In some cases, tissue and skin are removed, while at other times cartilage from elsewhere in the body may be used to restructure the ear. Some patients only require manipulation of existing cartilage.
Otoplasty Recovery
Following the surgery, any pain or discomfort is minimal and can be controlled by medications and postsurgical care. Swelling and redness will subside over the next week or two. Post operative otoplasty patients will be fitted with a protective bandage worn over the area for a few days. This helps to maintain the new shape and position of the ears and prevents them from being touched or bumped. Children should take a week off from school, and adults who undergo otoplasty should plan to be off work for about a week.
Frequently Asked Questions about Otoplasty
Why is otoplasty called ear pinning surgery?
One of the most common requests during cosmetic ear surgery is to reposition the ears closer to the head. This changes their forward projection and causes them to lay flatter against the head, resulting in a look of pinned ears. Otoplasty reduces the size of the ears and creates natural-looking results that are undetectable.
Is otoplasty covered by insurance?
Otoplasty is an elective procedure that will not change the functionality of the ears and therefore is not covered in those cases.
Can prominent ears be treated without otoplasty surgery?
Otoplasty surgery is required to permanently alter the structure of the ears. Dr. DeJoseph or Dr. Daraei must gain access to parts like cartilage to mold and suture into place. There are no nonsurgical techniques that perform similar functions.
When are the results of otoplasty visible?
Once the protective pressure dressing has been removed from the ears, patients will notice a difference in their ears. Though they may notice swelling and redness, it can take a one to two weeks or longer to see the final outcome of cosmetic ear surgery.
Can otoplasty correct cauliflower ear, other ear traumas, and birth defects?
These cosmetic issues can all be successfully treated through different methods used during the procedure. While not the typical ear pinning procedure, tissue irregularities and malformation can be improved through plastic and reconstructive surgery of the ears.
Otoplasty in Atlanta GA with Dr. DeJoseph and Dr. Daraei
Otoplasty is rewarding for a facial plastic surgeon to perform, especially when young adults are able to view their new look. Men and women who have endured years of teasing often feel relief after having undergone otoplasty, and wish they had done it sooner. Triple board-certified facial plastic surgeon, Dr. DeJoseph or Dr. Daraei performs the life-changing procedure on a regular basis at Premier Image Cosmetic and Laser Surgery.
Dr. DeJoseph and Dr. Daraei are passionate about aesthetic medicine and the ways in which it can improve their patients' lives. They are now accepting new otoplasty patients at his practice. Please contact Premier Image Cosmetic & Laser Surgery at (770) 457-6303, or fill out the practice's Contact Us form.