When the aging process strikes and leaves those age-telling frown lines, our Premier Image plastic surgeons in Atlanta can provide Botox treatments to give you a more youthful appearance. Botox can be used for many reasons, such as facial lines or wrinkles. It is a magic treatment that can bring the youth back into play and leave the skin touch-ably smooth.
Let us take a look at what this process can do for those embarrassing frown lines.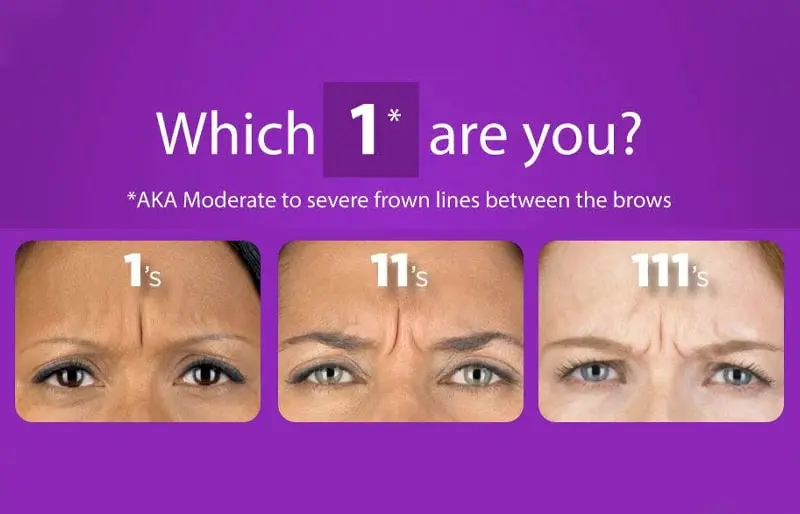 How Do Frown Lines Form?
When it comes to many of the age-related questions you have about your face and body, the answer is often the same – wrinkles are an inescapable part of growing older! and Frown Lines are no exception.
Also referred to as glabellar lines or "elevens", frown lines are two vertical lines that form because of the Procerus and Corrugator muscles contracting and moving. Located right between the eyebrows (on the lower forehead), these facial muscles are responsible for a range of facial expressions.
Back in the day, these lines would go away if you just stopped frowning or squinting. As you've gotten older, the frown lines on your face are more evident and can be seen even if you're not frowning.
The two primary causes of wrinkling in younger individuals are excessive facial expressions and the early onset of aging.
Eventually, your skin's composition transitions from supple and smooth to thin and wrinkled. This is caused by a decrease in collagen and elastin production. Together, these two ingredients keep your skin looking healthy but over time, your body stops producing them as much as before, resulting in a decline of elasticity. Consequently, the frequent facial expressions that you make begin to leave permanent creases on your skin.
What Is Botox?
Botox is a type of neurotoxin. This injectable anti-aging treatment has been around for decades and is one of the most reliable options out there.
Neurotoxins as active ingredients refer to a variety of cosmetic injectables such as Xeomin, Dysport, and other forms of purified botulinum toxin, which is a purified form of a bacterial byproduct and has been approved by the FDA for its safety and effectiveness.
Beyond treating cosmetic issues, it's also used to address medical issues like lazy eye, excessive sweating (hyperhidrosis), muscular spasms, migraines, and TMJ. Botox is becoming increasingly utilized in the healthcare setting for such conditions.
How Does Botox Work?
The substance used is a type of protein that when injected into the muscles of the problem area, stops the nerve impulses, thereby weakening those muscles so they will relax. By doing this, the skin smoothes out, and reduces dynamic wrinkles and fine lines. When used on facial lines, such as the frown lines between the eyes, the end product is a much more youthful look.
What Happens After A Botox Treatment?
After the injection takes place, a patient can expect to see marked improvement on the lines between the eyes within days and continue for approximately a month. The final results from the injectable treatment can last up to four months. The results of each individual patient may vary.
What Will My Face Feel Like after Botox?
The technique used by injectors years ago to deliver this injection has improved and evolved over time. Nowadays, injectors have become proficient in injecting this cosmetic item accurately and efficiently to help preserve facial movement while not worsening already existing wrinkles or creating new ones.
People often mistakenly believe that once injected with this neurotoxin or other injectables, they will experience a numbing sensation in their faces. Nothing could be further from reality. This injectable won't cause numbness in your face as it only affects the neurons in the body responsible for movement and not those which control sensory functions.
Is Botox Safe?
The substance used in the treatment for frown lines is completely safe when monitored closely. It is a prescription medicine that is used only under the watchful eye of one of our Atlanta cosmetic physicians, rendering Botox a very viable and safe method of treating the effects of natural aging.
Are there other uses for Botox?
Aside from smoothing out glabellar lines, Botox can be used for a variety of cosmetic issues such as:
The Bunny Lines on top of the nose
'Bunny lines' refer to the wrinkles that appear when a person wrinkles their nose, such as when sniffing or smelling something. Placing anti-wrinkle injections strategically around the nose can help reduce the visibility of wrinkles. Your smile can be impacted if the injections are not given correctly, so it's important to make sure they're administered by someone with experience.
The Crow's Feet around the eyes
Crow's feet at the outer corners of the eyes, even when you're not smiling, are typically a sign of aging. Yet BOTOX® can successfully minimize their visibility, which is why it's such a popular treatment for this area.
If assessed properly, anti-aging injections in this area can even help reduce the bags under your eyes, which can otherwise make them look smaller.
The Tear Trough under the eyes
With BOTOX, it's possible to reduce the appearance of fine lines under the eyes.
If you're trying to treat the area between your lower eyelid and upper cheek ("tear trough"), Botulinum Toxin may not be the most effective option, or it could be used in combination with another treatment.
Eye bags, for instance, are commonly caused by insufficient volume in this area, so dermal fillers may be a better option in that case. Alternatively, Ultherapy and Thermage can also address hollowness in this area.
Your doctor will advise you on what treatments are best for your specific concern.
Chin Botox to prevent dimpling
As people age, the mentalis muscles in the chin become overactive, leading to a dimpled or puckered appearance due to frequent flexing. This can worsen with tissue loss, making the skin look thinner, sun exposure, bone loss, gum recession, and a receding chin. BOTOX ® injections in the chin can relax the facial muscles in this area and reduce their dimpled appearance.
Teeth Grinding (bruxism)
Prolonged episodes of teeth grinding and jaw clenching – known as bruxism – can result in worn teeth, headaches, and earaches.
Bruxism is a condition that occurs unconsciously, typically while people are sleeping. It has been reported that bruxism is linked with various sleep conditions such as snoring and obstructive sleep apnea (which interrupts regular breathing). But it has also been related to stress and anxiety.
Bruxism can be temporary but often is experienced during times of extreme stress or anxiety. People suffering from this condition may also tend to clench their jaw tightly when they're focusing heavily while awake.Injecting BOTOX ® into the jaw muscles can relax them and effectively remedy the condition.
Can I Get Further Benefits from Botox?
Wrinkle relaxers have been proven to be highly effective when it comes to treating excessive sweating, with a success rate close to 100%. This is one of the more common secondary uses for wrinkle relaxers.
Botox has been found to be beneficial in treating Bell's palsy, facial spasms and other more complex issues like gummy smiles, frown lines, forehead lines and even jawline slimming.
How Long Do Botox's Effects Last?
Our specialty is providing a natural look by needing fewer treatments. Typically, our treatments have people returning every 3 or 4 months – enough to steadily improve and keep their existing results in place. Very similar to dermal fillers.
If your age is beginning to show on your face, Premier Image Cosmetic and Laser Surgery in Atlanta may be able to help. With trusted doctors to provide dermal fillers and Botox injections to the problem areas between the eyes, those lines can be smoothed out to give you the confidence you need when facing everyday life. There will be no more worries that people you meet will wonder if you have had a rough night because your lines make you look worn to a frazzle. With a simple treatment, you will turn that frown into a smile.