Gravity can be a wonderful thing. Without gravity, the Earth would cease to revolve around the sun. And we all know the consequences of that. However, if we're looking at aging, gravity can be a real…downer. Yes, pun intended.
Most women will experience sagging or drooping breasts, as it's a part of aging. However, it can be quite disheartening to see one of the most beautiful characteristics of women degrading over time.
What Causes Saggy Breasts
If you've ever wondered why saggy breasts happen, think about this: Breasts do NOT have muscles in them. They have ligaments and connective tissue. These ligaments and skin stretch as gravity pulls on the breast tissue, causing the breast to droop. The amount depends on the elasticity of your skin and your ligaments, as determined by your genes and diet, as well as on normal aging processes. Large breasts are most susceptible to sagging quickly, along with the breasts of women who engage in high-intensity sports but neglect to wear proper sports bras. Sports bras do make a difference, so invest in some good ones!
The most well-known cause of breast drooping is denoted as breast involution, which happens when the female body's milk-producing part inside the breast reduces as it becomes no longer necessary. This can occur post-weaning, directly after pregnancy if the woman does not nurse, or during menopause. The tissue inside the breast reduces, but the encompassing skin remains unchanged, causing the bosom to look upturned. After weaning, a woman's form generally deposits some fat cells back into the breast tissue. However, the mammary gland still appears pendant due to excessive skin.
Another culprit for breast ptosis is weight loss. While it may be great for the hips, it can be bad for the breasts. When you lose weight, some of that fat disappears from your breasts. Typically, the skin and the ligaments inside the breasts do not retract accordingly, turning formerly perky breasts into "empty" looking breasts that then sag.
Is it Normal to Have Saggy breasts Even if You Haven't Been Pregnant?
So, we've talked about what happens to your breasts after you have a baby, but what if you haven't had a baby and your breasts sag? Is this normal, or are your breasts sagging more than normal for most women your age?
Here are a few things to consider.
While some lucky women may experience a delay in sagging due to their breast size, gravity tends to make its presence known sooner or later. Even young teenagers have breasts that can start to succumb to this natural law of the universe.
In a society that prioritizes the perkiness of breasts, many women feel the pressure to have an "ideal" breast shape, which often involves having C- or D-cup-sized breasts that stay upright without the support of a bra. This can lead to feelings of insecurity when having sagging breasts. However, all breast shapes are unique and beautiful in their own way. What matters is that your breasts make you feel confident and comfortable with your body.
Use it, or lose it
Sagging is an inevitable process because of gravity. If you perform upper body exercises, you should wear a proper sports bra with plenty of coverage. However, the idea that bras prevent sagging, in general, may not be true. Studies have shown that bra-wearing may result in excessive sagging. The theory behind this is that, when you wear bras, the ligaments inside the breasts can atrophy and shrivel away because of non-usage. Not that we endorse going sans bra in public all the time, but know that the gentle bouncing of breasts when you walk and move can help those ligaments stay in top shape. Perhaps breasts weren't meant to be kept motionless! If you have larger breasts, a bra may be better, though, due to the support they give to the heavyweight.
Breast sagging has a negative connotation. We see it as breasts drooping or sinking from weight and being tired. Therefore, determining if your breasts sag more or less than normal depends on what "normal" really means.
Preventing Sagging Breasts
Taking care of yourself and making healthy lifestyle choices can slow some of the signs of aging in your breasts, as these choices affect your entire body. Additionally, keeping up a youthful appearance in other areas will help preserve a youthful look in the breasts.
A diet full of antioxidants is good for your breasts and also your skin. Fruits and vegetables are great sources of these powerful nutrients, and staying hydrated with plenty of fluids can help keep your skin looking healthy. However, no ideal diet will make the skin look younger or counteract the effects of gravity.
You should, however, say no to smoking. Tobacco consumption encourages the loss of skin elasticity. It leads to a breakdown of breast collagen and causes your skin to become less full-bodied. It also makes your body age faster. Giving up tobacco will better your health, reduce your peril for particular cancers, and potentially forestall the deterioration of the outer layer of skin surrounding your breasts.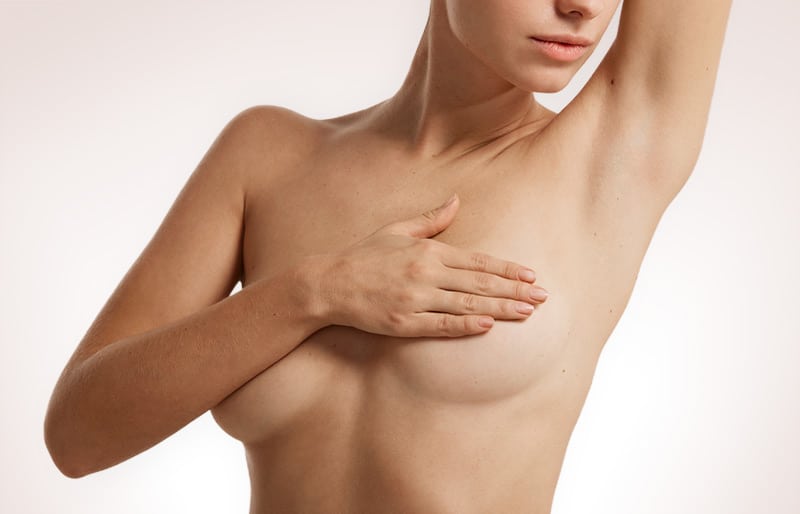 As you age, your body will change. This, of course, includes your breasts. Eating healthy may help delay some of these effects, but it may not completely stop sagging. If you want more permanent changes to your breasts, talk with your doctor about surgical options for lifting sagging breasts. You should also wear sunscreen. Being in the sun is a catalyst for skin problems. Even if your chest is not usually exposed to the sun, the skin around it can still receive UV rays.
The skin surrounding your breasts sustains their weight, so using protection like sunscreen will support the overall region. Additionally, you should maintain a steady, healthy weight. When you experience drastic weight gain or loss, the elasticity of your breast skin might reduce and be unable to retract. Keeping your weight fluctuations to a minimum may help you with issues related to excess skin stretching around the breasts and other parts of your body.
Cosmetic Surgery for Sagging Breasts
Women suffering from sagging breasts who yearn to regain their confidence and appearance can undergo breast reduction surgery, which can provide excellent results. Plus, this procedure can bring many health benefits such as improved back health or reduced skin rashes caused by loss of elasticity and skin friction.
A surgeon can perform a breast lift surgery to move the breasts and nipples so they are more aesthetically pleasing. Surgery can also firm up loose muscles and breast ligaments.To achieve the best possible results, your cosmetic surgeon may suggest a combination of breast lift with breast augmentation surgery. However, you should discuss these options in detail with your doctor, as every woman's case will be unique.
What Are the Processes of These Surgeries?
Breast reduction surgery is a plastic surgery procedure that reduces the size of overly large breasts. The purpose of this surgery is to make the breasts look more proportional and in better balance with the rest of your body, while also relieving any physical or emotional discomfort associated with having overly large breasts. During breast reduction surgery, the surgeon will remove excess fat, glandular tissue, and skin from the breasts, using either liposuction or an excision technique. The result is smaller and firmer breasts that are better proportioned to your body.
A breast lift procedure involves making incisions around the nipple area and then lifting the entire breast mound on top of it. This creates a new upper pole support structure that keeps the breast firmly in place even when wearing certain clothing items that have a poor fit or don't provide enough support. In addition to lifting the breast mound itself, some patients may choose to add additional volume by placing implants over their chest muscles. Breast augmentation is a surgical procedure that increases or restores fullness in sagging breasts due to weight loss, pregnancy, aging, or bad posture. The surgeon places breast implants, either silicone or saline, under the breast tissue. This will give the patient a fuller and perkier look for their breasts.
Breast Looks Can be Deceiving
Women in the United States typically only see their breasts and those of models. Most models are altered and airbrushed to look perfect (and not very human). That, along with most saggy breasts being pushed up and concealed under normal circumstances, leads women to assume that normal breast volume is what they see on TV.
Only you and your breast surgeon can determine what degree of breast ptosis, or sagging, is too much for your body.
Need a little "pick me up?"
All women's breasts sag to some degree. Short of breast augmentation or lift surgery, there is not much you can do about it. In the meantime, you can try to help the elasticity of your skin by taking supplements like vitamin C, which is very important for collagen synthesis within the skin. Other vitamins, minerals, and nutrients can help the skin and breast ligaments to be in top health. The nutritional route offers no guarantees, and results may be barely noticeable. You could also just lie on your back all day and not move (obviously impractical!).
Trust your breasts to a Premier Image expert plastic surgeon
For those of you with real lives and real bodies that give in to gravity, appreciate your unique form. Your breasts and how you feel about them are very personal and differ from person to person. If the appearance of your saggy breasts bothers you that much, consider coming in for a complimentary consultation. Also, know that having a breast lift or breast augmentation does not mean you'll walk away with super-sized fake breasts! The key is looking natural and proportional for your body type, and the surgeons at Premier Image are experts at doing just that.